A Few Words
About Me
Exceptional Service
Established In July 7th, 2018
Our www.factiy.in website reaches you by writing an amazing blog about the world. We tell you such amazing information of the world which are beyond your thinking. Amazing websites of the world are written by the best and best employees in our website, and then passed on to you.
You will find daily latest & amazing Blog's on this website which will be absolutely true. We want to scrap the curtain of false Blog's from the internet through our website. Our important purpose is to bring true Blog's to all of us and we promise to all of you Any Blog's you read on our website will be 100% true
We look forward to your stay.
About Me
Author & Founder
Friends, my name is Amrendra Singh, I am 20 years old and I am a new computer programmer and I live in a small village in Madhya Pradesh Satna district. I love writing blogs related to the world, but I want that there should be such a blog portal in this internet world that brings reliable blogs to all the people. Because if the facility has increased from the Internet, then there have been some disadvantages like now it is not known which blog to trust, I am only talking about the blog which we get from the Internet, that's why I thought why not one such A website should be made on which if a blog comes, then it should be a true blog and whoever comes to this website and reads any blog, then he should not get even 1% lie in that blog. And I promise you that if you read any blog from our website then it will be 100% true.
Why Factiy TV website has been created
The Factiy.in website has been created so that we can always give true blogs to the people through this website and people should not fall in the trap of false blogs because false blogs give wrong information to you. And people get confused by blogs written on the internet and we do not want people to stop taking advantage of good service like internet, so overall I hope you have understood why factiy.in website was created Is.
CEO & Founder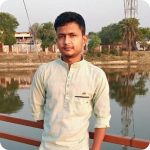 Amrendra Singh is a professional science, travel and entertainment blog writer and a big fan of Science and travel exploration. He received a Bachelor's degree in Electrical Engineering from MITS Gwalior. If any query and any question in your mind, feel free to directly email him at [email protected]
I Have Been Featured In:


Previous
Next
Free Estimation
Request A Quote
Factiy TV welcomes you, now you can share any of your best science, entertainment and travel related top 10 list information with us, you can write your article for us and if your article is useful for us then it will be in your name will be published on this portal with With your cooperation, we can take science to every nook and corner of India.