Friends, there are some such structures around the world, which people are surprised to see. Similarly, when viewed from the satellite of Google Map, in a beach in the city of Nantes, France, a very large snake structure is visible. As if a big snake of 100 to 120 meters, after dying from the sea, has come to the shore of the sea. So in today's blog we will tell you about the structure of this snake ( About serpent d ocean snake skeleton ) visible from the satellite.
Is this snake's skeleton real?
Friends, you must have seen the video of this snake in other social media platforms. And this thought must have come in your mind that, is the structure of such a big snake really lying on the shore of the sea? And can there really be such big snakes in the sea?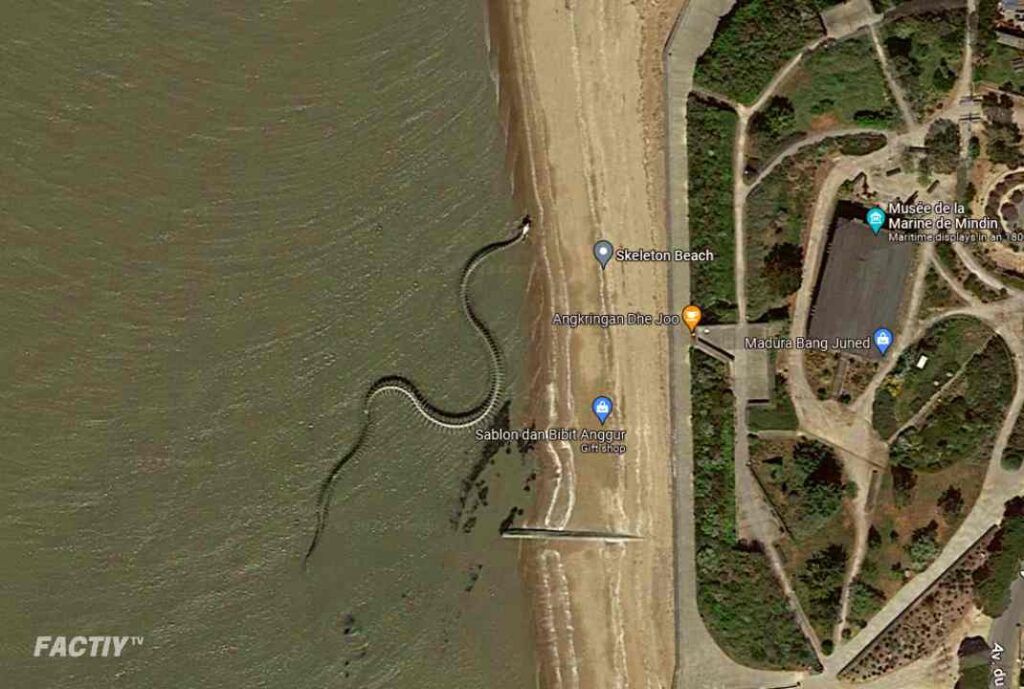 So let me tell you that whether such big snakes are in the sea or not, the structure of this snake is not real. Rather, this snake's structure is artificially made by humans.
Serpent d ocean
This snake structure was made from steel metal in the year 1954 in the Serpent beach of Nantes city of France. The government there had built a sea structure on this beach to attract this beach all over the world. And the structure of this snake was made by Huang Yong Ping, a very big artist of the country of China, who left this world only last year (in 2019).
You can see the Serpent d Ocean, also from Google Map.
You can also see the structure of this snake through Google Map. Looking at the structure of this snake from Google Map, it looks exactly like the structure of a real snake. and you see this google map –
So this was the About serpent d ocean snake skeleton. Hope you find this information interesting and good, then do not forget to share this blog with your friends and relatives. And thank you wholeheartedly for visiting the blog till the end.
Now you can also send us by writing a blog. to send Click Hear
You can also subscribe our YouTube channel.